Rat SeraMir Exosome RNA Profiling Kit
Easily test exosomal RNA expression against 380 rat miRs—profiling assay plate only, exosome isolation and RNA amplification reagents not included.
Rat SeraMir Exosome RNA Profiling Kit
$450.00
Products
Catalog Number
Description
Size
Price
Quantity
Add to Cart
RA812A-1
Rat SeraMir Exosome RNA 384 microRNA qPCR Profiler Assay Set
20 Profiles

$450.00

Contact Us
Overview
Overview
Quickly find out which miRNAs are packaged in your exosomes
If you've already extracted, amplified, and tagged miRNAs from exosomes using SeraMir and are ready for profiling, turn to our Rat SeraMir Exosome RNA Profiling Kit. This kit enables the generation of up to twenty profiles against 380 rat miRNAs, and includes control wells for robust quantitation (find out which miRNAs are included by
clicking here
).
Choose the SeraMir Kit that's right for you
Supporting Data
Supporting Data
Better qPCR profiling with SeraMir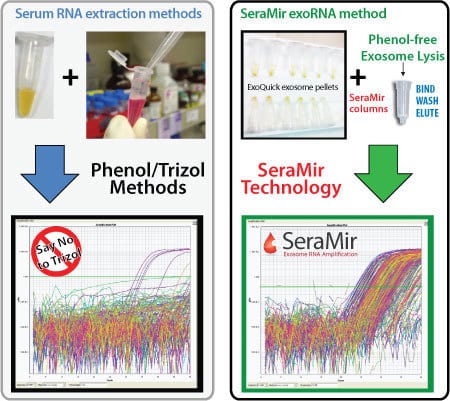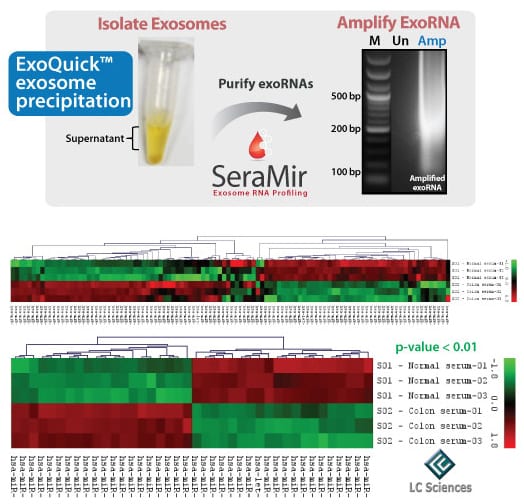 Of the 1,214 microRNAs analyzed, 79 microRNAs showed a signal intensity >32. Within this set of 79, there was a clear colon versus normal "signature set" of 40 microRNAs that could discriminate normal from colon cancer serum samples with a p-value < 0.01. The identities of the microRNAs found in this study have been masked while further investigation continues.