Exosome Proteomics Services
SBI's Exosome Proteomics Services make it easy to expand your biomarker research to include exosomal proteins, no matter your exosome or mass spec experience
Overview
Easily expand your biomarker studies to exosomal proteins
Because we know exosomes and we know how to deliver on end-to-end service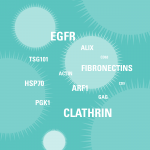 SBI's Proteomics Services makes it easy to profile exosomal proteins, whether you're hunting for biomarkers, seeking easy-to-access information on the physiology of the parent cell, or studying exosome biology. Our customized services provide comprehensive support that includes a pre-service consultation and everything from exosome isolation to data acquisition, analysis, and even interpretation. The result is high quality exosomal proteomics data regardless of whether you have a lot of experience working with exosomes or are new to the field.
Because we've been working with exosomes for years, we can reliably and reproducibly isolate exosomes from almost any biofluid—from plasma and tissue culture media to CSF, synovial fluid, and even mouse bronchial alveolar fluid (a challenging sample where exosomes are concerned!). And importantly for researchers working with limited sample volumes, our sample input requirements are very low (Table 1).
Table 1. Required sample volumes for SBI's Proteomics Services
| BIOFLUID | VOLUME |
| --- | --- |
| Serum, plasma, ascites fluid | 0.5–1 ml |
| Cell media, urine, CSF | 5–10 ml |
| Other | Inquire |
We can also work with already isolated exosomes, although we recommend using our proven sample preparation approaches which typically deliver cleaner peptide libraries with lower amounts of carryover protein, for more reliable exosome proteomics data.
Lastly, but not least, looking beyond the data, we can provide what your average proteomics service company cannot: the expertise of working with exosomes and exosomal biomarker samples. We've run thousands of samples and know what to expect from exosome proteomics studies. We don't just deliver raw data, we provide analyzed files and typically spend time with you reviewing your results and providing expert insights into your data, a value-add that is rare in this industry. Still have questions? Ready to order? Email us at services@systembio.com.
Proteomics service highlights:
Proprietary sample cleanup procedure reduces non-specific proteins found in biofluids
Both EV total and surface protein profiling services available
Libraries prepared using standard trypsin cleavage for MASCOT compatibility
Data file compatibility with Scaffold viewer simplifies data mining and analysis
Fast turn-around times—approximately 4 weeks
Data deliverables:
How it works
Ordering Exosome Proteomics Services is easy
Step 1: Contact the services team for a quote by emailing services@systembio.com.
Step 2: Send us your samples.
Step 3: Get your data files and a web-based presentation of the findings.