Exosome Engineering
Streamline production of engineered exosomes, have SBI's experienced team handle engineering and production—label, target, load cargo, and more
Overview
Are you ready to put exosomes to work? Let SBI help!
Because we know exosomes and we know how to deliver on end-to-end service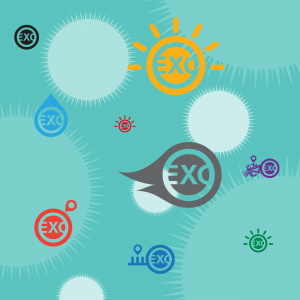 Used by cells to transport specific cargoes of active biomolecules, exosomes can be a powerful tool for labeling cells, delivering therapeutics, studying biological processes, and other applications. But you first need to load your cargo—whether protein, miRNA, or small molecules—and/or encode cell type specificity. Which is where SBI's Exosome Engineering Services can help. Provided by the experienced team that makes SBI's Exosome Engineering products, our scientists are ready to produce custom-engineered exosomes for you and can provide as much support as you need, including scientific consultation about engineering methods and exosome design.
What kind of engineering can SBI do?
SBI can use one of more of our Exosome Engineering Products to create customized exosomes for you:
Label exosomes

General protein labeling
General RNA labeling
Specific protein or RNA labeling
Load cargo into exosomes

Proteins
Nucleic acids, including mRNA, miRNA, lncRNA, DNA
Small molecules
Tag exosomes for uptake by specific cell types
Don't see what you need or not sure what would be best for your application? Contact the services team to set up an in-depth phone consultation—email services@systembio.com.
Why choose SBI for engineering exosomes?
Because we've been working with exosomes for years. Not only can we reliably and reproducibly isolate exosomes from almost any biofluid, we've got the experience to understand the little experimental details, such as cargo loading efficiency, cell uptake efficiency, and more.
How it works
Ordering Exosome Engineering Services is easy
Step 1: Contact the services team for a quote by emailing services@systembio.com
Step 2:  Send us your biofluid (if applicable)
Step 3:  Receive your engineered exosomes per specifications in the quote
SBI's Exosome Engineering Services take advantage of our robust and reliable reagents for exosome isolation