TransDux™ MAX Lentivirus Transduction Reagent
Maximize transduction efficiencies for more reliable and reproducible gene delivery, even in infection-resistant cell types
Efficient—up to 8-fold greater transduction efficiency than polybrene, and 4-fold greater efficiency than standard TransDux reagent as measured by qPCR*
Easy-to-use—kit format requires minimal hands-on time (<5 minutes)
Non-toxic—no need to change out media after infection
Versatile—works with all types of packaged lentivirus
Flexible—enhances transduction efficiency in a wide variety of cell lines
TransDux™ MAX Lentivirus Transduction Reagent
$391.00
Products
| Catalog Number | Description | Size | Price | Quantity | Add to Cart |
| --- | --- | --- | --- | --- | --- |
| LV860A-1 | TransDux MAX Lentivirus Transduction Enhancer | 100 Transductions | $391 | | |
Overview
Overview
Be confident in your gene delivery with TransDux MAX™
Whether you're working with difficult-to-transduce cells like primary T-cells or just want to ensure high transduction efficiency, SBI's TransDux™ reagents are ready to deliver. Our newer TransDux MAX Lentiviral Transduction Reagent can increase transduction efficiencies by up to 8-fold compared to polybrene, while our original TransDux formulation (Cat# LV850A-1) is still available for researchers who are not yet ready to make the change.
Ensure reliable and efficient gene delivery with TransDux MAX.
Efficient—up to 8-fold greater transduction efficiency than polybrene, and 4-fold greater efficiency than standard TransDux reagent as measured by qPCR*
Easy-to-use—kit format requires minimal hands-on time (<5 minutes)
Non-toxic—no need to change out media after infection
Versatile—works with all types of packaged lentivirus
Flexible—enhances transduction efficiency in a wide variety of cell lines
Broadly compatible—does not interfere with downstream gene expression or functional assays
*Based on infection of HT1080 cells with the pre-packaged virus format of SBI's BLIV 2.0 reporter MSCV-Luciferase-EF1a-copGFP-T2A-Puro (Cat# BLIV713VA-1) and the appropriate conditions for polybrene, TransDux, and TransDux MAX. Virus transduction & integration efficiency was measured using SBI's Global UltraRapid™ Titering Kit (Cat #LV961A-1)
How It Works
How It Works
Take your transduction efficiencies to a whole new level

TransDux MAX comes in an easy-to-use, two component format (TransDux and MAX Enhancer) good for 100 transduction reactions*. Simply mix both reagents into conditioned media from target cells (Figure 1), and infect with your lentivirus of choice for a higher level of transduction efficiency.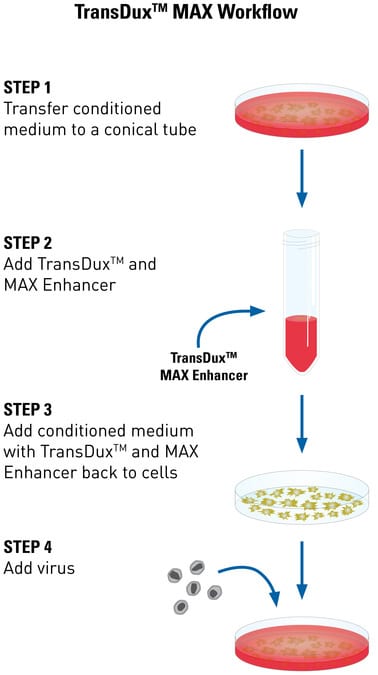 *One reaction is defined as treating 500 µl of conditioned media in a single well of 24-well plate