Rab5b Exo-Flow Capture Kit
For the selective capture and flow sorting (FACS) of exosome subpopulations based on the presence of Rab5b, which is involved in membrane transport and fusion
A range of well-validated antibodies for reliable and reproducible purification
Large-sized magnetic beads increase the efficiency of exosome capture
Reversible Exo-FITC and Exo-APC stains can be completely removed after FACS
Exosome Elution Buffer simultaneously removes Exo-FITC (or Exo-APC) and elutes exosomes from the magnetic beads for downstream applications such as functional studies
Rab5b Exo-Flow Capture Kit
$490.00
Products
| Catalog Number | Description | Size | Price | Quantity | Add to Cart |
| --- | --- | --- | --- | --- | --- |
| EXOFLOW500A-1 | Rab5b Exo-Flow capture kit (Magnetic streptavidin beads, Rab5b-biotin capture antibody, Wash and Elution Buffers, Exo-FITC stain) | 10 Reactions | $490 | | |
Overview
Overview
Go with the flow for easy exosome isolation using FACS
The Rab5b Exo-Flow Capture Kit has all the reagents you need to purify exosomes using FACS—magnetic streptavidin beads, Rab5b-biotin capture antibody, wash and elution buffers, and reversible Exo-FITC stain (Cat.# EXOFLOW800A-1)—you supply the FACS and the optional magnetic stand (Cat.# EXOFLOW700A-1). Our well-validated Rab5b-biotin antibody and high-quality kit components ensure reliable, reproducible exosome purification based on the presence of Rab5b on the exosome surface. And with our larger-than-typical bead size (9.1 μm diameter) exosome capture is highly efficient, assisting with recovery of rare exosome populations.
Note that we also offer reversible Exo-APC (Cat.# Exo-FLOW810A-1) as an alternative stain to Exo-FITC.
A range of well-validated antibodies for reliable and reproducible purification
Large-sized magnetic beads increase the efficiency of exosome capture
Reversible Exo-FITC and Exo-APC stains can be completely removed after FACS
Exosome Elution Buffer simultaneously removes Exo-FITC (or Exo-APC) and elutes exosomes from the magnetic beads for downstream applications such as functional studies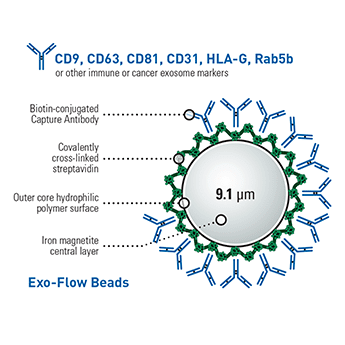 More than just Rab5bs
To facilitate the widest range of studies, SBI built the Exo-Flow system to be highly modular. We offer a range of biotinylated antibodies as well as a
Basic Exo-Flow Kit (Cat.# CSFLOWBASICA-1)
with no antibody so that you can use your own biotinylated antibodies.
How It Works
How It Works
Easily purify exosomes using FACS with the Rab5b Exo-Flow Capture Kit
At a glance
Simply (1) couple the Rab5b-biotin antibody to the magnetic streptavidin beads, (2) use the Rab5b-coupled magnetic beads to capture exosomes that have been isolated using either ExoQuick® or ultracentrifugation, (3) wash away unbound exosomes, and then (4) stain with reversible Exo-FITC (excitation and emission wavelengths of 494 nm and 518 nm, respectively).

Your sample is now ready for FACS analysis.
To use the purified exosomes after FACS, add the included Exosome Elution Buffer to simultaneously remove the Exo-FITC stain and elute intact exosomes from the beads.