LENTIVIRUS PACKAGING
Get high-titer, transduction-ready lentivirus backed by expert technical support, flexible production scales, and different titer options.
Get high-titer, transduction-ready virus
Why turn to SBI for lentivirus packaging?
The answer is our experienced service, high-quality packaged virus, and expert support. We've been in the lentiviral packaging business for over a decade—far longer than many companies on the market—and are the trusted OEM partner for lentiviral packaging for several large life science reagent companies. Because all aspects of this service are completed on-site in our Palo Alto, CA, facility, we can offer complete confidentiality, transparency on project status, and fully-informed, expert technical support.
How long does the service take? Is my project too big (or too small)?
Get ready-to-transduce, high-quality, high titer lentiviral preparations at the production scale your project needs—even at large scales of up to 10 mL. Use your own lentivector construct or take advantage of our Syn2Clone or Custom Construct services and we'll handle vector construction as well. We even have an ultra-high titer offering for demanding applications such as in vivo and stem cell transductions.
Lentivirus Packaging Services highlights:
Highly experienced team delivers high-quality packaged virus
Consistent and reliable titers delivered at or above specified titer levels
Three different titer levels and flexible production scales
Trusted OEM lentivirus manufacturer for large life science reagent companies
Expert technical support, full confidentiality, and on-time delivery with all projects completed on-site
Available titer options
| TITER | IFU/ML | APPLICATION |
| --- | --- | --- |
| Regular Titer | >107 | Standard cell culture models |
| High Titer | >108 | More difficult-to-transduce cells (e.g. suspension cells) |
| Ultra-high Titer | >109 | Very difficult-to-transduce cells such as stem cells and primary cells; In vivo applications |
Supporting Data
Lentivirus produced by SBI exhibits broad tropism and robust in vivo transduction efficiency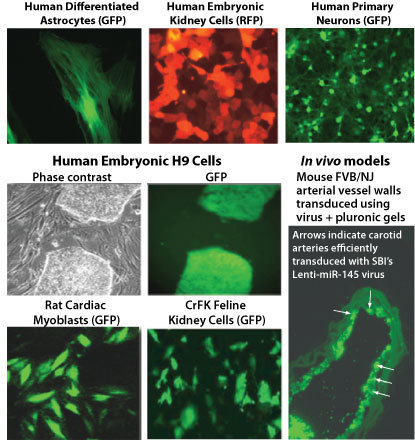 Figure 1. SBI's packaged lentivirus exhibits broad tropism.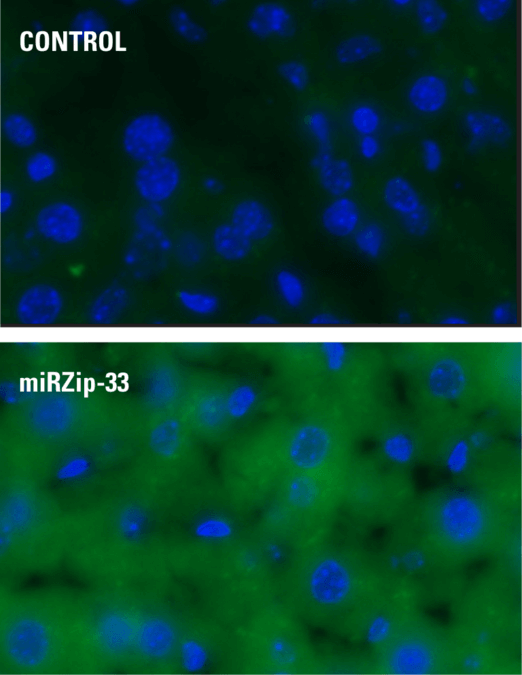 Figure 2. Lentivirus produced by SBI delivers high transduction efficiency in vivo. DAPI and GFP imaging of mouse liver six days after infection with either no virus (top) or miRZip-33 virus with a GFP marker (bottom). Lentivirus was introduced into mice via retroorbital injection at 2 x 109 IFU/mouse. Rayner, KJ, et al. miR-33 Contributes to the Regulation of Cholesterol Homeostasis. Science. 2010 June 18. 328(5985):1570. Supporting Online Material. PMCID: PMC3114628.