CRISPR/CAS9 GRNA AND HR DONOR CLONING
Simplify your CRISPR/Cas9 genome engineering—have SBI handle design and cloning of your gRNA and homologous recombination donor constructs.
Jumpstart your genome engineering projects with SBI's gRNA and HR Donor Cloning Services
Why choose SBI's CRISPR/Cas9 genome engineering services?
Choose either gRNA and HR donor design and construction or our complete Cell Line Engineering Service
Leverage our well-designed CRISPR/Cas9 products which are used in a number of peer-reviewed papers
Accomplish more with turn-around times of as little as 1–2 weeks for gRNA cloning, 3–4 weeks for HR donor cloning, and 10–14 weeks for full cell line engineering projects
Rest easy with your project in the hands of our experienced team that's successfully completed dozens of genome engineering projects
Enjoy consistent quality, confidentiality, and on-time delivery with all projects completed on-site in our Palo Alto, CA, facility
For gRNAs, SBI can take care of designing and cloning a single gRNA or multiplex gRNAs against a target locus using any SBI SmartNuclease or SmartNickase vector (or customer provided gRNA cloning vector).
For HR donors, SBI can design and clone homology arms into any SBI HR donor plasmid for knock-out, knock-in, tagging, or single nucleotide modification genome engineering projects. When a custom HR donor plasmid is ordered together with custom gRNA design and cloning, the donor vector will not contain the complete gRNA sequences in the homology arms to ensure full compatibility with the gRNA to be used.
Note that SBI's CRISPR/Cas9 Genome Engineering Services take advantage of our robust and reliable CRISPR/Cas9 products.
Supporting Data
Successful genome engineering with SBI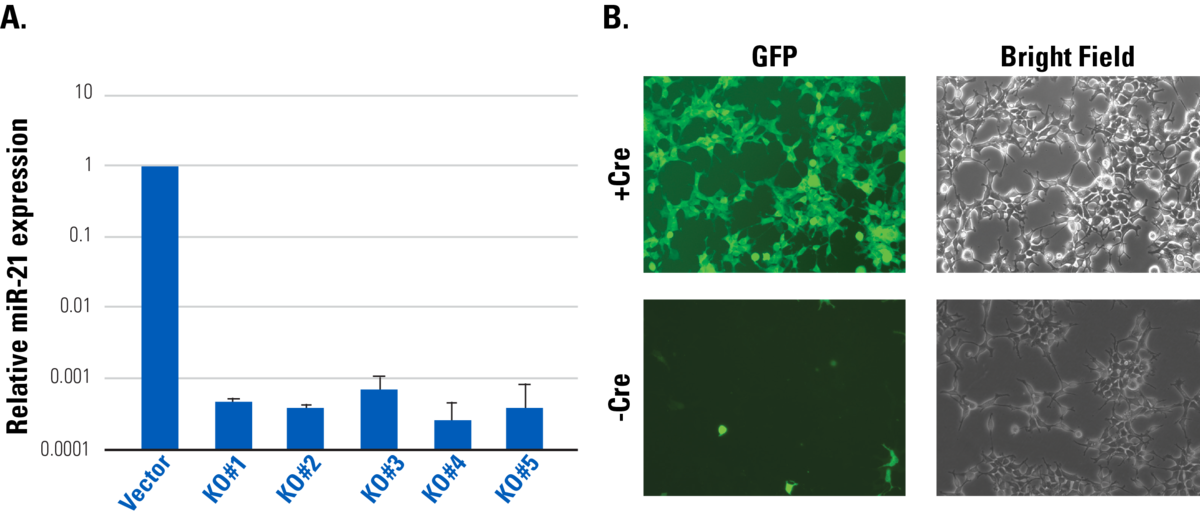 Figure 1. Successful genome engineering with SBI—effective, efficient knockout of miR-21 in HEK293 cells. gRNA, HR Donor design (with Puro and GFP selection markers), implementation, and analysis performed by SBI's genome engineering services team. (A) Low relative levels of miR-21—as measured by qPCR in GFP-positive clones—demonstrate the effectiveness of the approach. (B) After excision with Cre recombinase, the inserted GFP and Puro markers are efficiently excised, leaving only a single LoxP site from the HR Donor. From Ho, TT, et al. Targeting noncoding RNAs with the CRISPR/Cas9 system in human cell lines. Nucleic Acids Res. 2015 Feb 18; 43(3):e17. PMCID: PMC4330338.