MINICIRCLE SERVICES
Let SBI's Custom Minicircle Services team handle minicircle cloning and production for easy access to the technology—get sustained transgene expression free from foreign DNA.
All the benefits of minicircle technology without the hassles
Delivered by our experienced scientific team, our Minicircle Services are highly flexible and can include a complete end-to-end experience—we clone your cDNA, miRNA, or shRNA into one of our highly-regarded minicircle parental vectors and produce large quantities of minicircles—or only parts of the cloning and production process. We can even customize the parental vector for you.
Whether you need 250 µg or 10 mg of minicircles, we can deliver, with a typical end-to-end project taking as little as four weeks.
Access Minicircle Technology for research use with no licensing restrictions when ordering ready-to-use minicircle DNA through our production service
Leverage the minicircle platform for durable gene expression in your most demanding applications
Rest easy with your project in the hands of a team that routinely produces minicircles for large pharma partners
And, as with all of SBI's Custom Services, we offer a high-quality, full service experience:
Dedicated scientific project managers ready to answer any of your questions, whether they're on the science or the timelines
Full transparency and frequent communications about your project
Complete confidentiality, consistent quality, and reliable timelines that are made possible by having all aspects of your project conducted on-site in our Palo Alto, California facility
What are minicircles?
Produced as small circular DNA fragments after excision from a parental plasmid, the non-viral, episomal minicircle expression cassette is free of any bacterial plasmid DNA sequences that can lead to silencing, and comes with a variety of promoter and reporter combinations. Their small size facilitates more efficient transfection than what's possible with standard-sized plasmids, and, while minicircles do not replicate with the host cell, expression lasts for 14 days or longer in dividing cells, and can continue for months in non-dividing cells.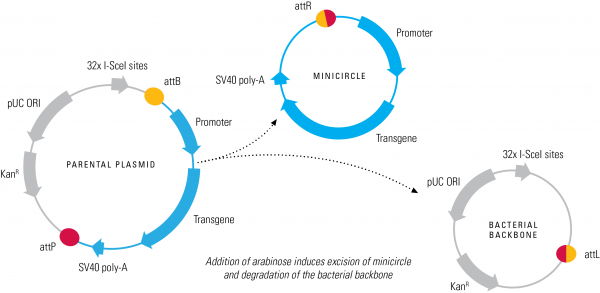 Supporting Data
Achieve sustained expression after transfection in vitro and in vivo

Figure 1. Easy, sustained transfection in most cell types (left) and transgene expression in animal models for weeks (right). Transfection of 1 µg of minicircle DNA (pMC.CMV-MCS-EF1-GFP-SV40PolyA, Cat.# MN511A-1) into HEK293 cells delivers over one week of robust gene expression. Hydrodynamic tail vein injection of minicircle DNA (CMV-GFP-Luc) into mice shows excellent expression after several weeks. Minicircle-delivered transgenes retain robust expression that can last for weeks compared to transgenes that are delivered using plasmid DNA where expression is rapidly lost. In this study, 40 µg of minicircle DNA was introduced into mice via hydrodynamic tail vein injection.