Overview
Profile across the human miRNome
SBI has simplified qPCR profiling of human miRNAs by bringing together a comprehensive qPCR array of human miRNAs. Our Human hsa-miRNome MicroRNA Profiling Kit comes with all the reagents necessary to tag and convert small RNAs into quantifiable cDNA using the sensitive QuantiMir™ technology and a large set of human miRNA assays, including major and minor miR forms (1,113 mature miRNAs).

The kits include assays in three, pre-formatted 384-well assay plates with three endogenous reference miRNA controls on each plate (U1, U6, and RNU43). All microRNA assays are based on miRBase entries.
Identify miRNA biomarkers and expression pattern signatures
Rapidly tag and convert all small RNAs into detectable cDNA for qPCR
Measure as little as picogram amounts of starting total RNA
Conduct high-throughput screens of cell lines, tissues, and clinical samples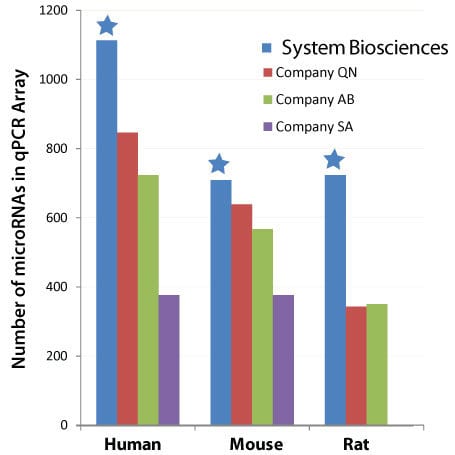 About the included QuantiMir Kit
When you'd like to profile miRNAs with qPCR, SBI's QuantiMir™ Kit can get your samples ready. By efficiently converting all of your miRNA into cDNA, you can get accurate, sensitive, and quantitative qPCR data on the miRs in your sample. Great for understanding differential miRNA expression, simultaneously profiling siRNA and mRNA, and more.
Simple and robust procedure
Rapidly and efficiently convert all small RNAs into cDNAs for qPCR
Suitable for high-throughput screening of clinical samples
Sensitive and accurate
Versatile—design your own miRNA assays